People, Planet and Profit. The three P's companies are more and more focusing on. Meaning that there is more than making profits – measuring the environmental and social impact.
Consumers are nowadays basing their purchasing decision on their values as they are willing to pay extra for environmentally friendly goods. The importance of products that highlight sustainable characteristics and satisfy social and environmental requirements is increasing.
Kitesurfing is a sport that can only be practiced on the water and with the respective wind. Not only traveling back and forth to the best kite hotspots, but also the equipment has a negative effect on the footprint. And yet there are companies that try to do their best to maintain the beauty of the ocean – minimize CO2 emissions, avoid plastic, move production facilities to Europe and upcycle materials.
Designing sustainable kite equipment with KOLD Shapes
As a pioneer within the kitesurfing industry, KOLD Shapes established itself as the sustainable brand for twin tips and surfboards. By filming two documentaries about the plastic pollution in our oceans, the sustainable philosophy for KOLD Shapes was set in stone. Mario Rodwald, founder and European as well as German champion in kitesurfing, saw the urge for a sustainable business approach by designing the boards by himself.
"We truly believe that many things can be done differently regarding the sustainability without sacrificing – or even enhancing the abilities of our boards", says the founder.
Plastic pollution is a major issue that affects more than just the seas. As a result, the company focuses on a plastic-free packaging, European based production facilities, offsetting emissions and distributing fins in reused wooden boxes. Besides that, the boards should be used as long as possible, so that the product cycle is set to 3 to 4 years, unlike other companies.
However, there is still a huge impact, so that KOLD Shapes decided to collaborate with ARKTIK in order to offset their CO2 emissions. How does it work? This is done in three steps; first, the GHG emissions across all business operations are measured. As a second step, it will be identified at what points along the value chain emissions can be reduced. Lastly, there are solutions for offsetting the emissions which cannot be further reduced.
With these actions taken, Mario Rodwald aims "to design the highest performing boards while reducing the impact on our planet".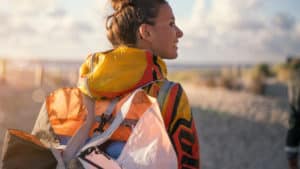 Upcycled kites with Stay in a Kite
Upcycling is "reusing discarded objects or materials to create a product of higher quality or perceived value than the original" (Forbes).
Stay in a Kite is doing exactly this – upcycling old kites and surf sails into fashion and additionally using only organic material with the goal of a zero-waste production.
Doris, the founder of Stay in a Kite, is "convinced that business can be done differently nowadays. I think that a sustainable and organic lifestyle has to be fun in order to reach people and that this is what I want: a cool product that is fun, comfortable, and practical and of course also sustainable".
The following steps are taken within the production, so that a sustainable and organic production can be maintained:
Purchasing organic and recycled products for the production
Carefully selecting suppliers (located in Europe; short transport distances)
Processing all textile offcuts
Choosing transportation with DHL GoGreen
Using grass paper for packaging to save resources
Supporting initiatives with a percentage of the profit
Stay in a Kite is one of the companies that show how to make a difference. With these efforts taken, the start-up is aiming to build up a purpose-driven company.

Rent more. Buy less. Kite more.
The mentioned companies already demonstrate how businesses can make a difference. There is always room for improvement, however, everyone has to start and try to be more aware about the positive impact that can be reached by acting more sustainable.
That's why we at Salty Lemon believe that, even though we are a young business, need to be aware about our impact and which actions can be taken to minimize the footprint.
Therefore, customers can lease kite equipment, so that they do not need to buy new equipment and waste resources. We make sure that the products stay in great condition, so they are as good as new for the next rental and ready for the adventure ahead.
Besides that, we are aiming to reinvest a part of our profits into organizations that are preserving the oceans and are active in climate protection. Until now, we are trying to build a community of awareness by doing this in form of Clean-Ups and by supporting organizations like One Earth One Ocean.
Looking for ways on how to make a positive impact is not only worth it, it also brings joy as you can directly see the impact it causes.
However, these are the first steps and there are yet more to come!