Get the latest gear without the admin so you get the
maximum time on the water – don't buy, just rent!
WELCOME TO THE SALTY WORLD
Getting you into kitesurfing has never been so easy.
How Salty Lemon simplifies your life:
3 STEPS TO YOUR KITE SUBSCRIPTION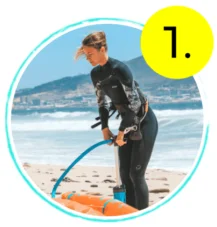 your personal kite gear and accessories.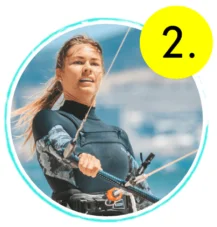 your desired leasing duration between 3 and 24 months.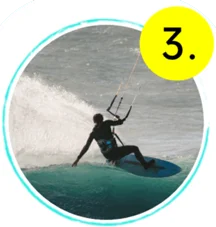 your personal kite subscription is ready to go!
This is future ... only positive. Best advice, super friendly, fastest delivery and above all absolutely flexible with the material and the contract terms. The concept is absolutely convincing.
Super all-round service! My kite package arrived well packaged and quickly. Equipment looks top notch and will be tested over the weekend. Questions were answered quickly and easily via email.
The Salty team picked me up personally, answered all my questions and put together a great offer that saved my monthly salary. I now start with my personal equipment, perfectly selected for me and can concentrate directly on kiting. A dream for me, because I don't have time to deal with many of these topics in depth.
I really like the way the company communicates and what it offers. I received friendly and quick response to questions and other services within a short time. The appearance also seems fresh and harmonious to me. I'm looking forward to bringing my equipment onto the water soon.
Professioneller und sehr freundlicher Service! Wir wurden super beraten und das Material kam pünktlich und in top Zustand bei uns an. Die Abwicklung war total einfach. Kann es kaum erwarten Kiten zu gehen. Empfehle es auf jedenfall weiter!
Perfect service for everyone into kitesurfing! Super Service und Erreichbarkeit, Versand und Rückversand komplett organisiert, Material top und ne super Zeit auf dem Wasser gehabt 🙂
Besser gehts meiner Meinung nach nicht! Super Beratung, problemlose Abwicklung und super schnelle Lieferung, so dass ich noch rechtzeitig mit meinem Material versorgt werden konnte! Preislich absolut fair und weil meine gewünschte Kitegröße nicht vorhanden war, wird diese sobald vorhanden! Ich hoffe das sich das Modell durchsetzt und allen Kitern erhalten bleibt!! Macht weiter so!!
Ich bin einfach begeistert! Mir ist an einem Samstag ein Kite kaputt gegangen, daraufhin habe ich am Samstag Abend noch eine E-Mail geschrieben! Sonntag Vormittag direkt eine Antwort und 1std später zum Kitetausch verabredet. So konnte ich auch am Sonntag noch aufs Wasser und war super happy!!! Genau wegen solchen Situationen bin ich sehr glücklich Kunde bei Salty Lemon zu sein!
Bei Salty Lemon Kite wurde ich bestens beraten und konnte mich so super entscheiden. Ich hatte das Gefühl das sich Zeit genommen wird für den Kunden und das auf Wünsche eingegangen wird. Der Service ist einfach rundum perfekt. Schnelle Auslieferung. Im Großen und Ganzen bin Ich mehr als zufrieden und Glücklich mich für diese Art des ''Kitens'' entschieden zu haben. Kann es nur weiterempfehlen