Making a difference. Doing something meaningful. Taking advantage of the opportunities that are out there and making a difference. Saving resources and promoting responsible consumption with high quality, locally produced products. Anna and Sebastian have taken this to heart and started a company that manufactures sustainable surf fins from recycled plastic.
Anna and Timo met in Sri Lanka two years ago and exchanged ideas and first steps in the start-up adventure. Sieve and Salty Lemon share a passion for water sports, the urge to make a difference and to have a positive impact, so that this has resulted in a collaboration in which we introduce Anna and Sebastian's young start-up:
Surfing is a sport that attracts nature lovers. In contrast, the surfing equipment itself is often not sustainable or environmentally friendly. Water sports in general, and surfing in particular, are usually quite a material battle. This is exactly where we have started, with ourselves and our own equipment. With our brand SIEVE, we make sustainable surfing fins from recycled plastic. Designed, developed and produced in Germany.
THE IDEA
Our story begins a few years ago on a beach in Denmark when Sebastian, our founder, picks up plastic that has washed ashore. He then started to think about how to prevent plastic from getting into our oceans in the first place. And so begins the idea of manufacturing some of his own surf equipment. With our sustainable surf fins, we offer an alternative to conventional surf fins and want to promote the responsible use of plastic.
HOW DOES THE IDEA NOW BECOME A SURF FIN?
Sebastian is very enthusiastic about realising his idea of making sustainable surf fins from recycled plastic and produces our first prototypes by hand on a machine he built himself on his roof terrace. It becomes clear: the idea works. However, the fins are still too soft. There is a lack of a professional production process and the right material to produce fins with the desired quality. But Sebastian sticks to his idea and develops it further. In the meantime, a team is also formed around Sieve, united by a passion for the sea and the drive to develop new solutions for the sensible use of plastic.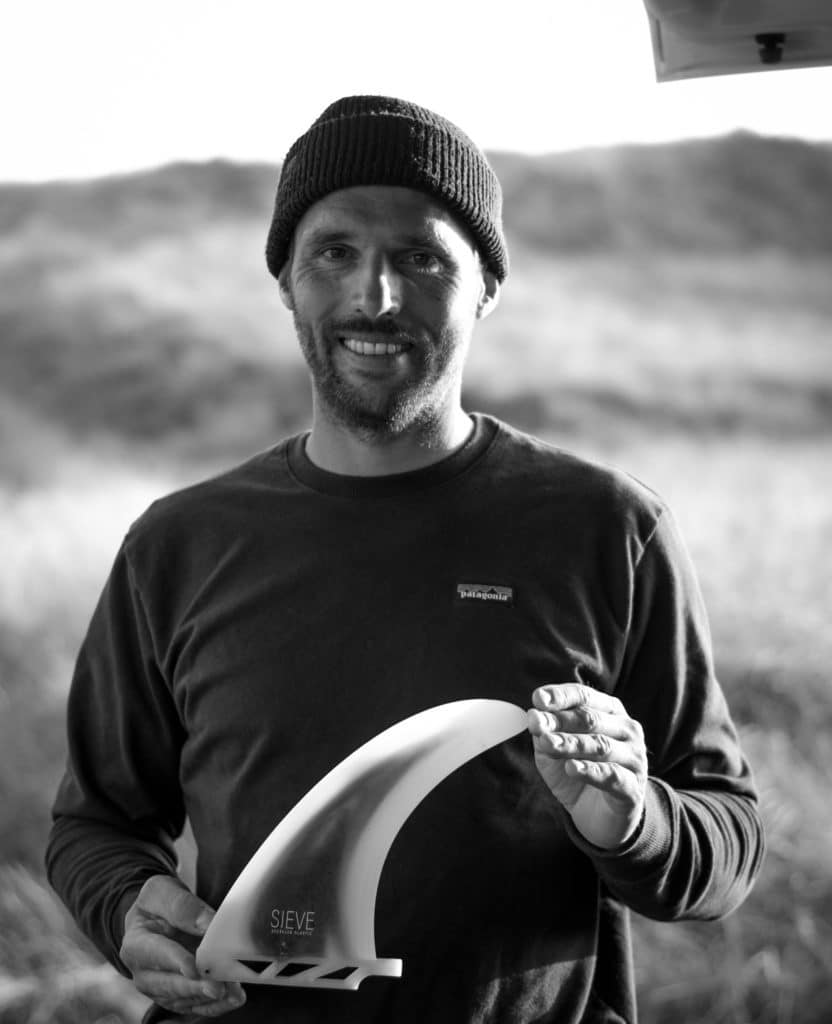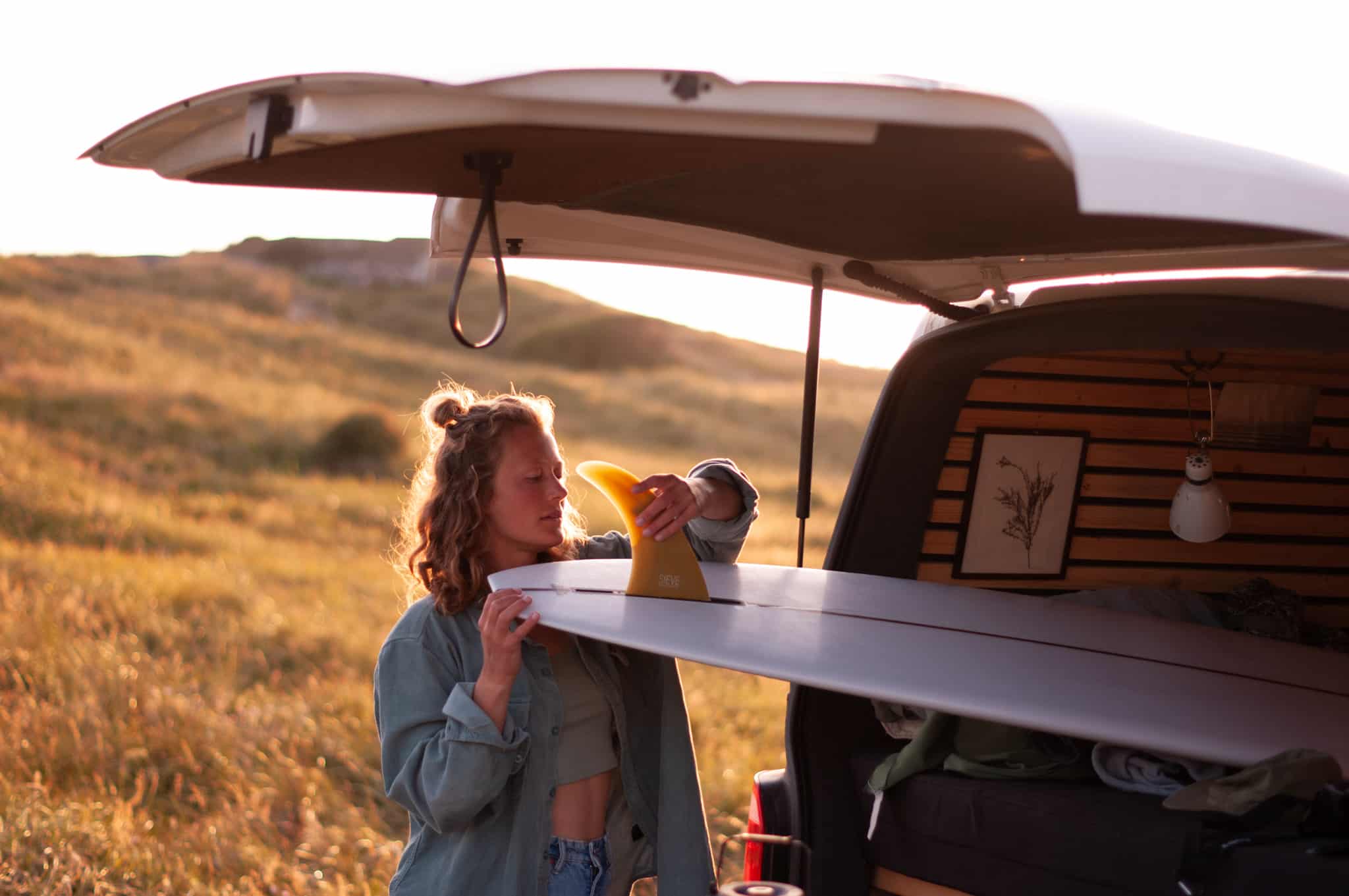 IN SEARCH OF THE RIGHT MATERIAL
The search for the right material requires a lot of trial and error, learning and testing. From the beginning, it is important for us to know exactly where our recycled material comes from. However, the recycled material must also be of the right quality to produce high quality surf fins. Through contacts, we finally become aware of the company PiP Recycling. PiP recycles the lids of plastic bottles that are collected, sorted and processed in Germany. We are quickly able to convince them of our idea. In addition, PiP is also constantly working on solutions to develop recycling even more effectively and resource-efficiently. We therefore know exactly where our material comes from and can ensure that all our transport routes are kept as short as possible. To guarantee the necessary stability of the surf fins, additional glass fibre is added to the recycled plastic material. This results in a durable, high-quality product.
THE PROFESSIONAL PRODUCTION
The hand press Sebastian used to create the first prototypes was nowhere near capable of applying enough pressure. It had to be replaced by a professional injection moulding machine. During the search for the right production partner, contact was made with the company Reichle GmbH. From the very beginning, they are willing to support us with a lot of expertise, creativity and production resources. This is how an exciting cooperation between industry and start-up emerges, which enables us to realise our idea. Together we have further designed, developed and implemented our surf fins. In addition, Reichle's expertise in laser texture allows us to develop a unique surface design for the surf fins.
OUR SURF FINS
SIEVE is also supported by the company Reichle in the production and can produce the surf fins on the in-house injection moulding machine. Sebastian currently produces our surf fins himself. He removes each fin by hand, checks and regrinds the fins where necessary to make sure they fit perfectly. This gives us a complete overview of our production and we know every step of our production. From the material to the finished shipment.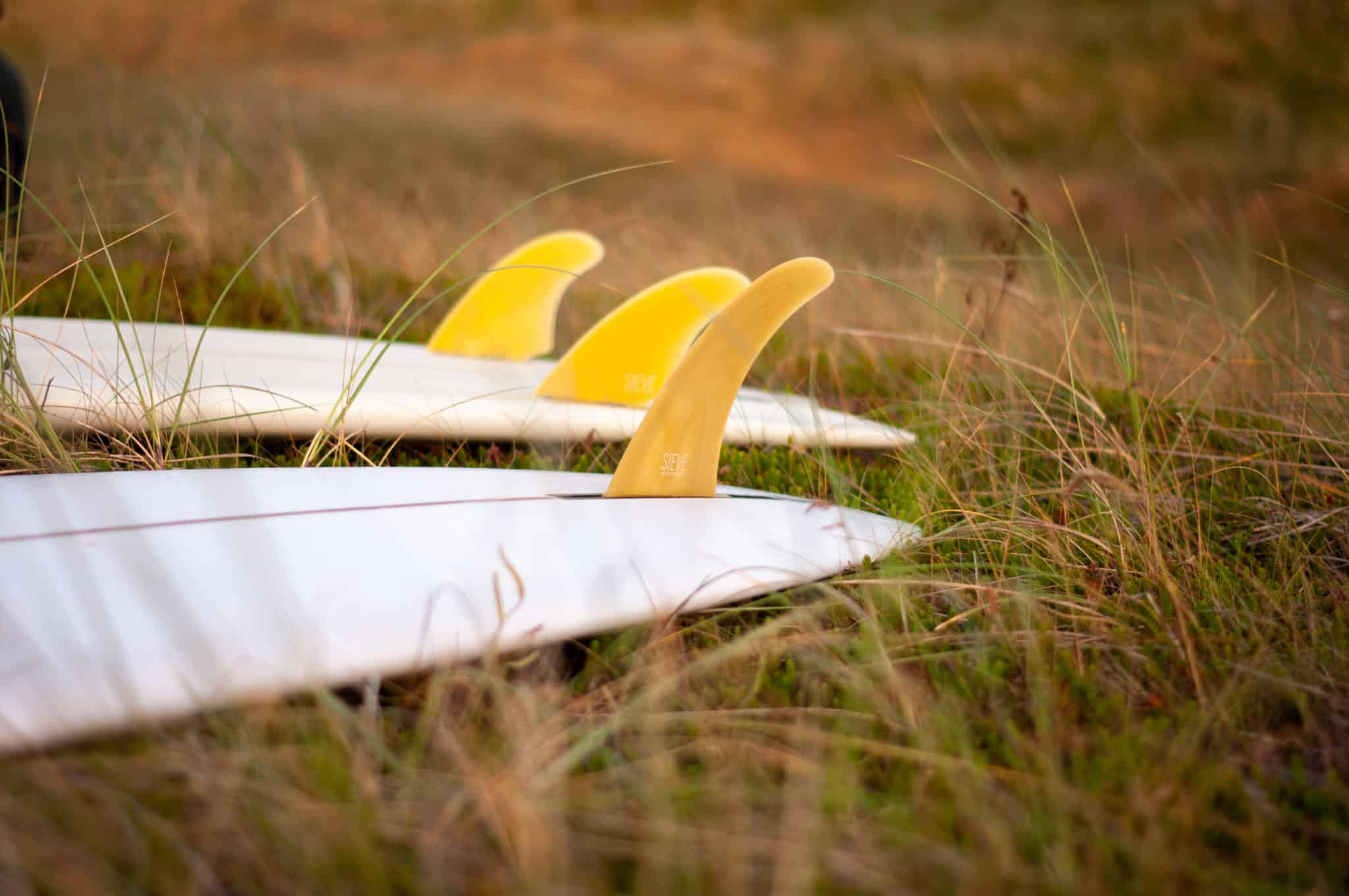 THE FIRST TEST SURF
In July 2021, we can finally take our own fins on our surf trip to Denmark. What a feeling to surf our own fins. We have a super week in Denmark and a huge luck with the waves. But not only Denmark and the waves were convincing, we are also more than satisfied with the test of our fins.
START OF SALES
In September 2021, we will then start selling through our online shop. The first sales and the positive feedback from our customers are a huge pleasure for us after so much time, work and nerves went into the development of our surf fins. In the first few months, we have already shipped our surf fins to Australia, Belgium, the Netherlands, Germany, Spain and Portugal.
SIEVE SURF FINS MADE FROM RECYCLED PLASTIC
That's how an idea turned into a product, a team and a company. We currently produce our sustainable Single fins, Thruster fins and Twin fins. But we already have many new ideas and are constantly developing Sieve.
If you want to know more about our founding and development, then listen to the Surf Talk Podcast episode. Here we tell you more about the idea and the structure of SIEVE.